During catastrophic events such as the recent Türkiye/Syria earthquake, the road infrastructure in the affected area is often widely interrupted and accessibility varies over time. In spite of this, it is imperative to quickly provide assistance to the affected people. Humanitarian Organizations need real-time information for force and logistics planning: Which roads are still passable? How can I reach my destination given the current situation? How is access to healthcare facilities affected? Which border crossings are passable from Türkiye to Syria?
In the wake of the earthquake in Türkiye and Syria in February 2023, HeiGIT set up an instance of the disaster portal for the impacted region with input from the MSF GIS Middle East Team (Médecins Sans Frontières/Doctors Without Borders), who are supporting the operation of MSF in Syria and have a need for coordinating supply efforts on the ground.
HeiGIT's disaster portal is a service that aims towards helping during disaster relief efforts by providing up-to-date information for planning routes and generating areas of reachability while taking inaccessible parts of the road network into consideration. The portal includes feature storage for disaster areas like blocked roads, bridges destroyed by earthquakes, or borders blocked due to conflict. These features are automatically avoided when generating routes or isochrones.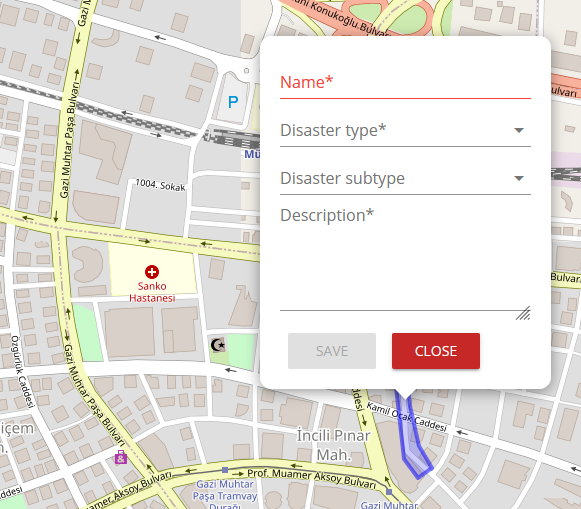 For the activation in the Anatolia region, HeiGIT retrieved publicly available data from the World Food Program (WFP) Logistics Cluster on the status of roads and border control points and integrated it as avoid areas and overlay. The closed border points can therefore be avoided by routing. The MSF GIS Middle East Team shared their experiences in disaster situations, tried out the service and provided their valuable feedback and input, contributing to a first path to an open source service meeting the needs of humanitarian actors efforts.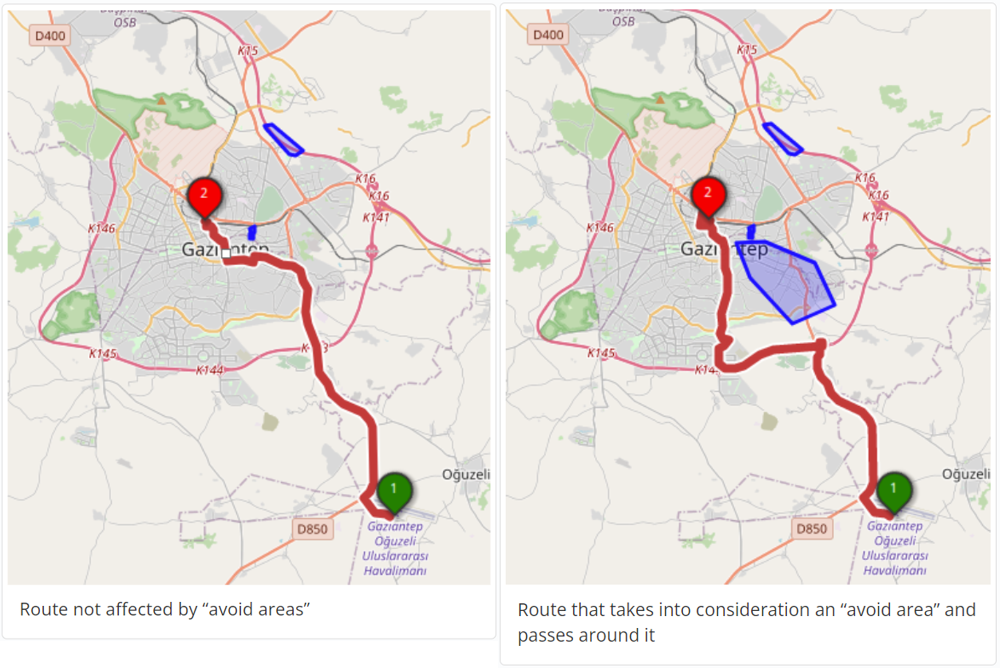 The web application is based on the existing web client showcasing the features of the Openrouteservice API, but has some additional features that help specifically in disaster scenarios. The underlying OpenStreetMap data, which is utilized to build the road network graphs, is updated every 10 minutes. Therefore, the latest OSM data can be utilized in the service.
The Humanitarian OpenStreetMap Team (HOT) organizes projects for rapid and collaborative mapping in urgent disaster situations. In the Anatolia Earthquake, 13 urgent mapping projects were activated with more than 15,000 volunteers contributing mainly roads and buildings. Anytime a road in OpenStreetMap is added or edited, the change will be integrated into the Disaster Portal within a couple of minutes, and thus be used to calculate routes. The routing also considers all attributes available for the roads mapped: for example, roads that are tagged in OSM with the attributes smoothness=impassable or access=no are avoided.
The proof of concept of the disaster portal found favor with potential users during catastrophic events. Xavier Charles (GIS Regional Technical Referent for Middle East at MSF) stated, "It is an awesome tool that already fulfills the purpose of saving extra effort and time in emergency response." In general, the Disaster Portal tool already covers the most important aspects for possible use cases of MSF, and its functionalities, as well as integrated features, can also be used in the long term beyond the response phase.
Based on this application case, we are now happy to receive feedback on further needs on features or data sets as well as other requests. We are very much looking forward to further developing the disaster portal so it can create a positive impact in response efforts for all kinds of humanitarian organizations.
For more insights, you can check out our explanatory video.
If you are interested in setting up an instance for an Area of Interest (AOI) or in receiving access to be able to add and save your individual avoid areas, feel free to contact us via info@heigit.org.