Cover image: Team representatives from German Red Cross, DRL and HeiGIT in the replica of the European research capsule COLUMBUS, which is part of the International Space Station (ISS). Photo by Anne Schneibel, Jan. 24, 2023.
Which buildings are most severely damaged after an earthquake? Which areas have no access to health facilities? How do route planning and emergency care change when certain roads and bridges are unusable?
The Heidelberg Institute for Geoinformation Technology gGmbH (HeiGIT) has been working with the German Red Cross (GRD) and with the German Aerospace Center (DLR, Deutsches Zentrum für Luft- und Raumfahrt) for several years to address questions like these. In 2019, the cooperation between HeiGIT and DRK was formalized through a Memorandum of Understanding and further strengthened by a specialist position for geoinformatics within the GRD's International Cooperation team, funded by the Klaus Tschira Stiftung.
In the citizen science project UndercoverEisAgenten young citizen scientists track down the permafrost melting in the Arctic. The German Aerospace Center, HeiGIT and the AWI work together on this project. In addition, there have been several other collaborations in recent years, such as the DLR Data4Human Projekt project ("Demand-oriented data services for humanitarian aid"), which has been supported by both the German Red Cross and HeiGIT. In Data4Human, remote sensing data and other data sources were analyzed in order to show continuous possibilities of use in a humanitarian context. The topics covered state-of-the-art technical aspects such as artificial intelligence, use of web-based data sources and also creation of dynamic interfaces for data exchange.
The respective expertise of HeiGIT and the German Aerospace Center complement each other in many areas of disaster management. Knowledge from humanitarian practice provided by the German Red Cross can bridge the gap between research and practice, and technological innovations relevant to practice can be developed in a targeted manner. The goal of the cooperation is to make broad scientific, technical and especially geoinformatics expertise available for practical use. In particular, the fusion of earth observation and crowdsourcing data as well as applications are in focus, as these offer promising, holistic solutions for complex challenges such as mitigation and adaptation measures, especially in times of climate change.
Apps are being developed and implemented, for example, to collect information in a more targeted and digital way for better subsequent analysis and processing. This can be useful for project planning and scenario building, but also in the implementation of emergency aid. The digital data processing and data combination in a user-friendly app helps even non-experts to find answers and share results.
The project team explores how new technologies and methodological approaches and developments from the latest research can be used. The topics range from the simple digitization of a process, such as the collection of data, to the use of artificial intelligence and the analysis of satellite images. Depending on the context, different problems can be tackled: How to assess the situation in a place, if I don't have spatial access to it? Where does the most vulnerable population live? Which areas are most affected in the event of a flood and what measures need to be taken? Which buildings are damaged how badly after an earthquake? Which areas do not have access to health facilities? How quickly can viral diseases spread in a country, and what can the consequences be? How does route planning and thus (emergency) care change when certain roads and bridges are unusable?
At the beginning of 2023, representatives of HeiGIT, GRC and DLR met at the German Aerospace Center premises in Oberpfaffenhofen, to share current projects as well as strategic goals and to identify synergies. On this basis, joint project ideas were developed. In February, another workshop will take place in Berlin, where HeiGIT and DLR will network more closely with teams from different countries (e. g. national officers and delegations, GRC subject areas). This will promote communication and help identify concrete project steps. In open discussion rounds, the projects of the GRC and its national sister societies will be highlighted in order to leverage the potential of existing or possible applications and services of HeiGIT and DLR.
Already implemented examples include the methodological and technical support for national sister societies of the Red Cross and the targeted, demand-oriented further development of the Sketch Map Tools. The latter is an application for the paper-based capture of local knowledge with spatial reference with the possibility of automatically making the captured features available in digital form.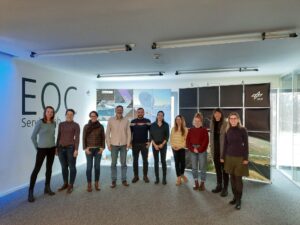 DLR, DRK and HeiGIT cooperation team in the Center for Satellite Based Crisis Information in Oberpfaffenhofen, Jan. 24, 2023.