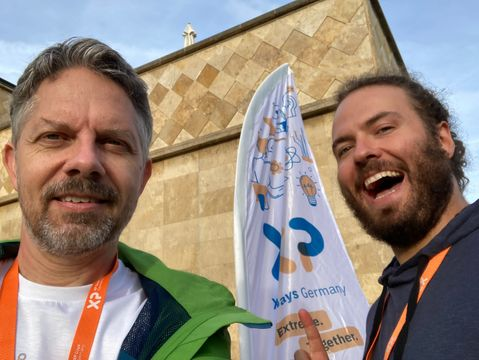 On October 5th and 6th, 2023, the XP Days Germany 2023, an open conference for agile software development and extreme programming with a focus on software development topics, took place in Frankfurt am Main. During the conference, participants were able to expand their knowledge of software development in lectures, workshops and discussion panels.
As team building is also part of software development, Johannes Link and Jakob Schnell presented dynamic team building at HeiGIT, the Heidelberg Institute for Geoinformation Technology, in their presentation "Floating Teams – Anything but Routine" on October 5th, 2023. From motivation, experiments, to their results, as well as the current implementation of team building at HeiGIT, participants were able to gain insights into the floating team structure. The long-term effects on productivity and quality will be observed over the next year and then presented at XP Days Germany 2024.
Particularly noteworthy are Sophia Cook's workshop on October 6th, 2023 on "Hexagonal websites? Hexagonal frontend architecture!", which is expected to have a concrete impact on software development at HeiGIT, as well as Anita Schüttler's presentation on the same day on the topic of "#ClimateActionNow! How sustainable software development can find its way into your everyday programming", in which very practical tips for sustainable software development and everyday programming, sources for self-study and tools to try out were presented (available on the Miro Board

Sustainable Software). Good material to finally get active with HeiGIT too.
Of course, there were other interesting presentations and workshops at the conference. On October 5th, 2023, Pierluigi Pugliese presented his upcoming book "ScaleAgility: Principles over Frameworks" and some of the insights the team has gained over the years in the keynote speech on "Large Scale Product Owners". Andreas Havenstein also presented a book in his presentation "Measurable Success". "Accelerate: The Science of Lean Software and DevOps" deals with the question of whether the gut feeling and intuition of the agile software development community also has a measurable impact on institutions.
Also on October 5th, 2023, Holger Koschek and Markus Trbojevic presented an introduction to team development with the question "What is a team?", where they also presented their book "Every team is different" (available from the publisher dPunkt). Oliver Emmler, on the other hand, addressed the topic of personal emergency preparation and why the emergency backpack should last for two days in his presentation on "Resilience and risk-conscious action in a disaster". Not only in disaster situations, but also in software development the following is important: driving at night should be avoided at all costs!
Finally, we would like to highlight Moritz Tiedje's presentation on October 6th, 2023, in which concrete approaches to "Emergent Test Architecture" were presented, with the conclusion: A good test is fast, valuable and cost-efficient.
Want to learn more about interesting news and events related to the application of geospatial information in the fields of mobility, humanitarian aid and data analytics? Follow our social media channels and stay up to date on upcoming mapping, conferences and geospatial content with our blog!