The United Nations Maps program, created in 2019, held its 2nd UN Maps Conference, this time in Valencia, Spain. Prof. Alexander Zipf of HeiGIT and the GIScience Research Group at Heidelberg University and Benjamin Herfort of HeiGIT attended the conference to talk about "Open Ecosystems in Practice", "Partnerships and Cooperation with Academia" and how to "build better maps". Find out the most interesting conversation topics and experiences in detail below.
"It became clear during the conference, which was held from 6th to 10th of March 2023 and organized by the United Nations Global Service Center (UNGSC), that geospatial information is a cross-cutting field which supports almost all mandates and work areas of UN organizations" concluded Benjamin Herfort as he recapitulated his visit.
Looking at OpenStreetMap, open source software and open data have been enforcing each other. Steps in utilizing this symbiosis have already been taken. The conference made clear that most maps and geospatial analyses carried out by UN Organizations such as UNICEF, FAO, WHO or WFP would not be possible if OSM data didn't existed.
Data from OpenStreetMap and other open sources are widely used for several of the pillars of the United Nations (Maintain International Peace and Security, Protect Human Rights, Deliver Humanitarian Aid, Support Sustainable Development and Climate Action Uphold International Law).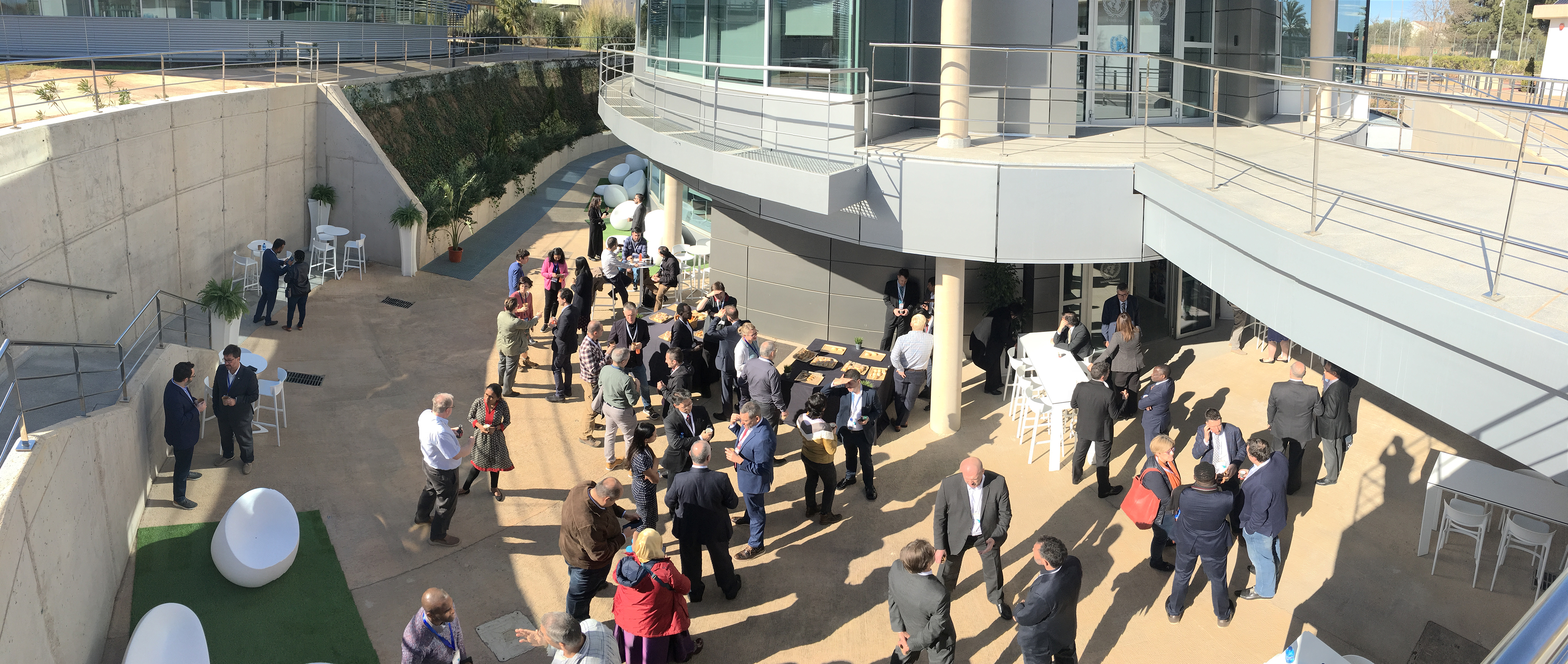 HeiGIT's Participation
Using their practical experience in working with open data, Prof. Alexander Zipf and Benjamin Herfort joined vital discussions around how to "build better UN Maps" based on open source software and open data. The UN Secretary-General's Data Strategy speaks towards this goal and puts an emphasis on employing more data analysts, data engineers and data scientists.
The topic of "Partnerships and Cooperation with Academia" was intensively discussed with representatives from other universities such as Universidad Jaume I and Universidad Politécnica de Valencia. Prof. Zipf outlined the challenges that research partnerships still face and emphasized the specific requirements when working together with UN organizations.
They have also provided knowledge and insights about "Open Ecosystems in Practice" and outlined the importance of open source software and open data in a humanitarian context. At HeiGIT, we are trying to build and improve these open ecosystems based on the research work carried out by GIScience Research Group at Heidelberg University. Results of this ongoing process include the recently launched specialized routing service for disaster affected areas such as the ones in Türkiye or Syria. Integrating these services with the demands and requirements of UN organizations remains a project of high importance for HeiGIT. We value the fruitful and constant learning experience that comes with cooperating with UN organizations.
Geospatial Technology Exhibit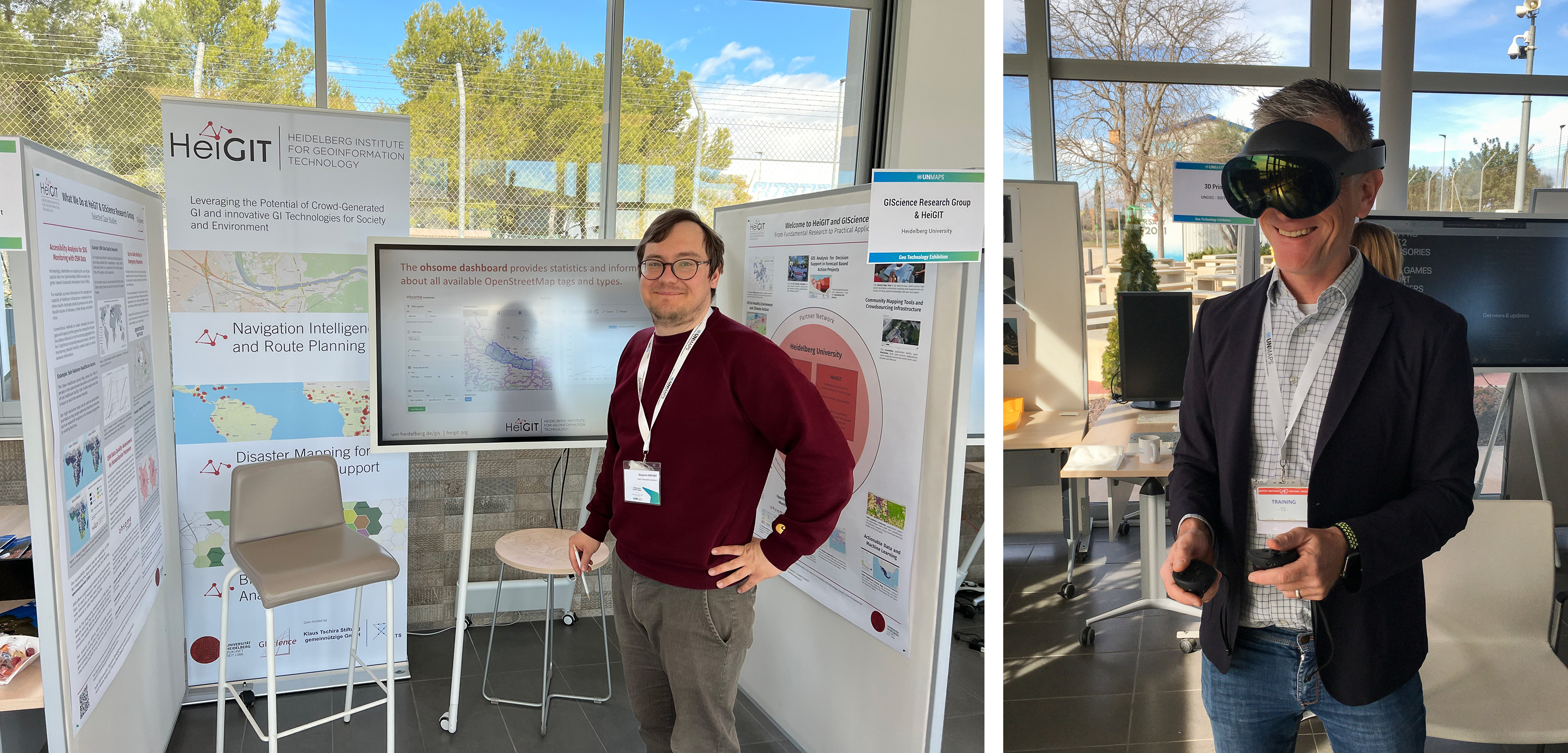 We want to thank the organizers for providing such a great venue and opportunity like the geospatial technology exhibit to participate in. On this occasion we got into contact with many different people and were happy to demonstrate some of our tools and services around OSM data and its use cases. In case you have missed this opportunity, check our posters and learn how we support accessibility analysis for SDG monitoring with OSM data or run OSM data quality assessments for humanitarian purposes.
And of course we've checked out the "gadgets" of the other groups, including a visit to the top-notch data center next to the conference venue.
Our key takeaways
We were impressed by the fact to what extent OpenStreetMap already powers the UN Maps of today. For some topics such as up-to-date statistics to monitor mapping in OSM or specialized network analysis tasks, we are keen to learn more and how our "open ecosystem" of services might be able to support the ongoing developments.

The work of UN Mappers, such as the UN Maps Learning Hub, might provide some first connection points in regard to teaching and course materials. Some interesting collaborations, such as the joint publication from the Geospatial Information Section and the International Cartographic Association on Mapping for a Sustainable World, do already exist. Let's build upon these.

We are curious to see what the transformation towards open data and open source software can yield for GIS professionals and researchers in general and open source GIS technology in particular.
Thanks! We had a great time in Valencia.